Curriculum
Please read on to find out all the exciting things we have been taking part in at Barlows.
St Patrick's Day
The children have been learning all about St Patrick's Day and what the clover represents. The children have listened to a variety of different Irish music during the session and they were each given the opportunity to paint their own shamrock. The children were using a variety of different tools, techniques and materials to complete their art work.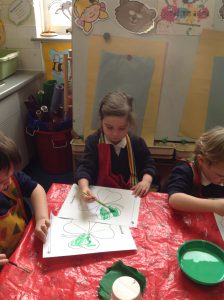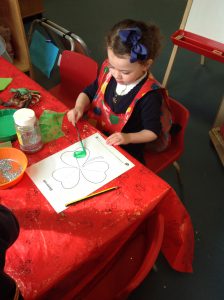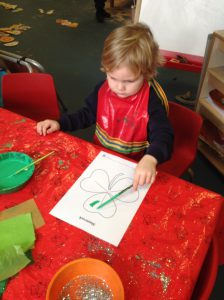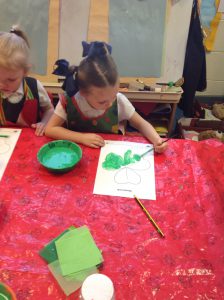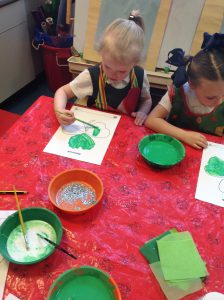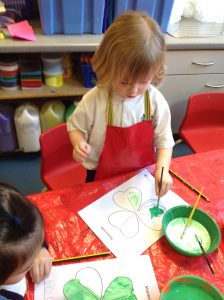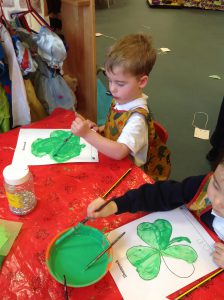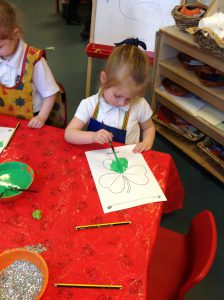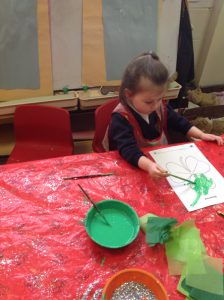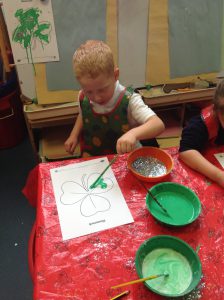 Snowmen
The children enjoyed another unexpected snow day in school. We made a family of snowmen.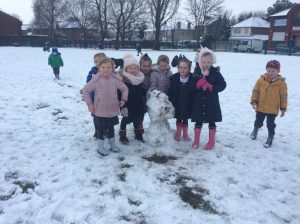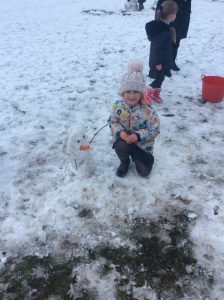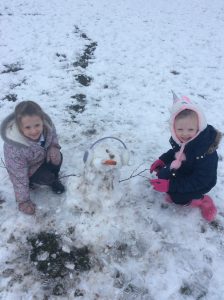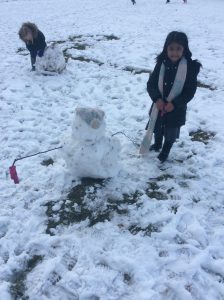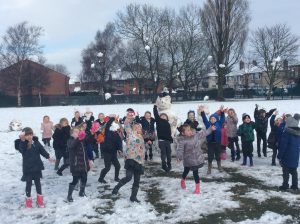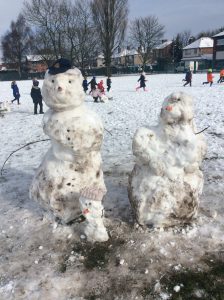 Superheroes
We have been learning all about superheroes, we read the story Supertato. We made a cape or a jet pack and a mask so we could fly around school.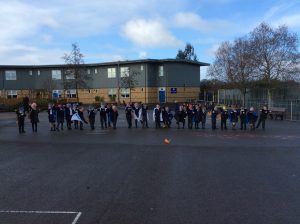 World Book Day
On Thursday 1st March both children and staff enjoyed celebrating World Book Day.
The theme of this year's World Book Day was 'Share a Story' and in participation with this we held our own World Book Day breakfast where children enjoyed reading a book with their friends and families whilst having their breakfast.
Children from Years 3 and 4 visited the Children's Centre where they shared stories with the young children. All children showcased their creativity skills as they made a hat or headband about their favourite book and enjoyed taking part in a parade around the school hall.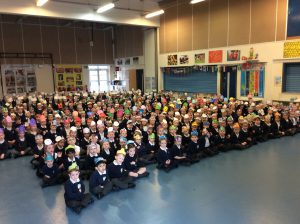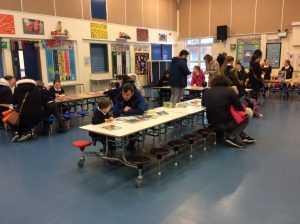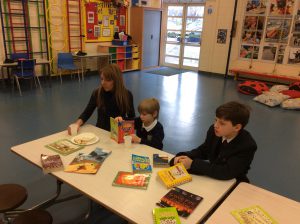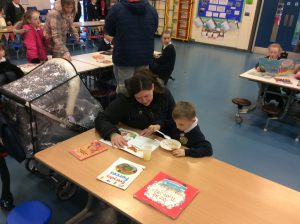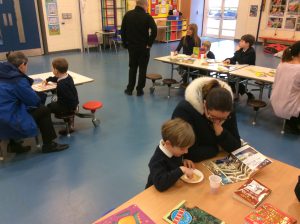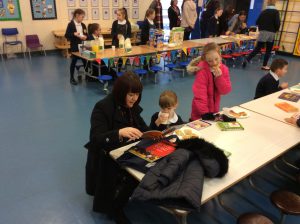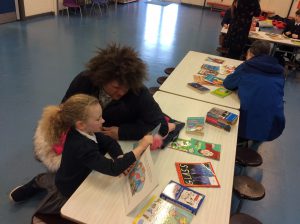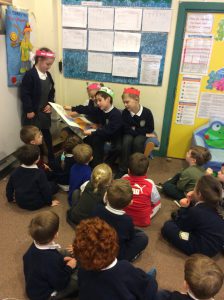 Reception enjoyed World Book Day in school, but we really enjoyed coming back to school for the  infant disco. We dressed up as our favourite story character.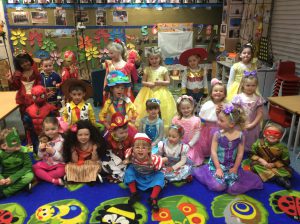 Playing in the snow
The Nursery children have enjoyed playing in the snow today. The children used the paint to create different patterns and they had so much fun making snow angels. The children created their own snowman and collected a variety of different materials to add decoration. Both the children and staff had lots of fun!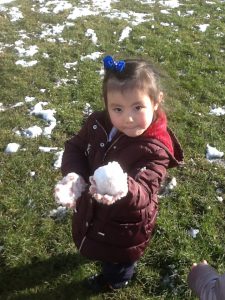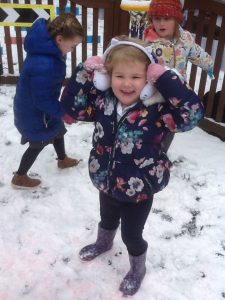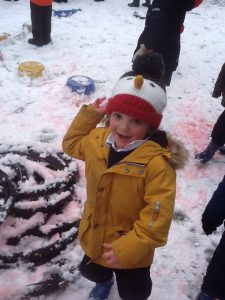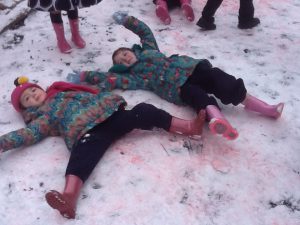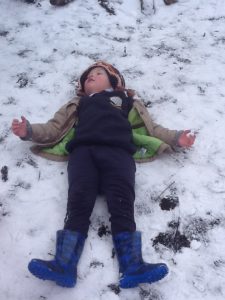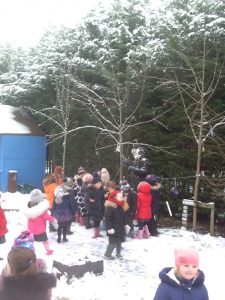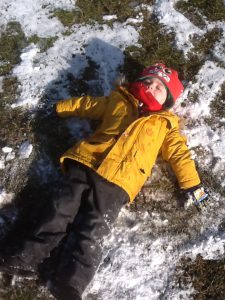 The Junior Chef Academy
The Nursery children have all taken part in the Junior Chef Academy session on Monday.   This experience involved teaching the importance of making better choices about healthy eating through making food education fun. The children used their practical skills, fine motor control and communication to work together and support one another throughout the session. The children were all aware of the safety procedures and they adhered to the guidelines at all times. The children understood the purpose of using the tools they requires and they were able to use their fine manipulative skills to cut up their ingredients appropriately. They followed the step by step instructions given by the chef showing some understanding that eating healthily contributes to good health. The children all enjoyed tasting their spicy tomato pasta dish and it is lovely to hear the positive feedback from parents regarding this experience.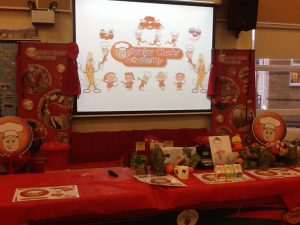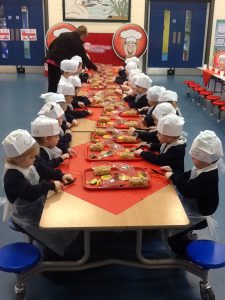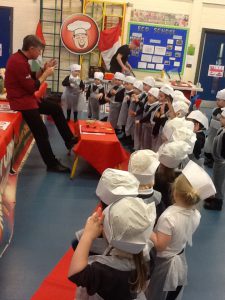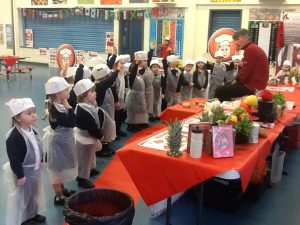 Nursery – Fine Motor Skills
The Nursery has introduced a new routine to the beginning of their session. The children have currently been identifying their own unique pebble on arrival into Nursery however from observations they are now all confident with the transition and enjoyed taking ownership of their individual pebble. We have looked into the next steps into their learning and now developing their fine manipulative skills by taking part in fine motor activities at the beginning of each session. This will aim to help prepare the children to begin writing and holding their pencil correctly. The children are developing their strength by taking part in a range of activities daily and they are becoming more confident to start writing letters individual letters independently.  This is a selection of activities they children have been engaged with this week.
Police Visit
In Reception we have been thinking about People who help us and today we were very lucky to have a visit from PC Caroline.
We had been thinking about what we would like to find out about the police and had some questions to ask. Some children had even written to PC Caroline to ask her to show them her hand cuffs and her badge.
All the children listened with interest and PC Caroline was very impressed with what they already knew about Police Officers.
All the children enjoyed trying on the hats and uniforms and they even trying putting the teachers in hand cuffs! Luckily PC Caroline had remembered the key.
Nursery P.E.
The children have enjoyed their P.E lesson this week; we have been focusing on travelling along a bench in a variety of different ways. The children enjoyed experimenting with their different ways of travelling which included; sliding, crawling, walking, shuffling and hopping. The children have developed their balance, co-ordination and confidence skills and it is evident they can move in different ways. The children practised their jumping skills including landing on the mat appropriately.
Born in Bethlehem
Nursery perfomed their school nativity on Monday 11th December called "Born in Bethlehem". The children all worked very hard learning their lines, songs and actions. The children enjoyed the performance and the staff are all very proud of them. Thank you to all our parents for their support in preparing our children to deliver this fantastic performance.
A visit to the Storybarn
On Thursday 14th December 2017 Reception visited the Storybarn at Calderstones Park.
The children were able to play inside the Storybarn, they listened to some stories and then took part in a Christmas craft. After lunch the children then explored the park and found out some interesting facts.
Reception Christmas Play
Tuesday 12th December 2017 the children in Reception took part in the school 'Nativity'. The children performed twice for their family and friends at 9:30 and 2:30. Thank you to all parents and carers that came and supported the children and provided costumes. All the children did an amazing job, well done!!
Sending Letters to Father Christmas
All the children in Reception wrote a letter to Father Christmas, we then walked to the post box on Longmoor Lane to post their letter to the North Pole.
Nursery Camp Fire
The children have all been involved in creating a campfire this week during our adult led session outdoors. The children have discussed the importance of fire safety and we have read stories and sang songs around the campfire. This finalised our senses week as the children had to use all 5 senses during the campfire session.
The children were listening and following the instructions as well as adhering to our safety rules around the campfire. The children thoroughly enjoyed this experience especially toasting marshmallows, making smores and drinking hot chocolate.
Author Week Breakfast
This year at Barlows, we dedicated a week of Autumn Term to celebrate authors and the fabulous stories that they write. During the week, the children were immersed into a range of texts written by various authors and took part in a range of exciting activities.
To celebrate this week we held an Author Week Breakfast, which gave parents and carers the opportunity o complete, an 'author quiz' for the chance to win a book voucher.
The breakfast was a huge success, with many parents and carers enjoying the opportunity to see the work the children have been doing during Author Week, in addition to reading books with the children whilst having breakfast.
In My Life Launch Event
On Monday 6th November two Year 6 pupils had opportunity of attending a launch event for a diary writing initiative for primary schools across the city, called 'In My Life' which is organised by School Improvement Liverpool.
We were delighted that Barlows were invited to take to the launch of this exciting project. During the event, the children read a chapter of Boy, by Roald Dahl. This is a text the children are familiar with as our Year 6 pupils have been using Boy in a text based approach in English.  During the launch, the children showcased their excellent speaking and listening skills while reading their extract in order to engage with the audience.
In addition to reading an extract, the children were very excited to meet two award winning authors; Frank Cottrell Boyce and Emy Onuora.
Year 4 Bronze Age Workshop
As part of our work on the Bronze Age and Iron Age, Year 4 had the exciting opportunity of taking part in an interactive workshop.
This workshop involved a range of exciting practical activities which will included handling real ancient artefacts, interactive craft activities and learning about changes in lifestyle and culture across the three periods in Britain's early history.
Year 3 Art – Printing
The children in Year 3 have been looking at different ways of printing.  We have looked at the use of overlays and made our own set of four overlays to create our own print.
Year 3 Stone Age Workshop
As part of the History topic 'The Stone Age', Year 3 spent the day in a Stone Age Workshop.  During the day, the children learnt about the different periods of the Stone Age.  They also experienced how it might have felt to live during the time by; building a model of Stonehenge, making flour from wheat using a quern, drilling holes into stones, knapping flint and building a full size roundhouse.  The children thoroughly enjoyed the day.
Year 6 Trip to York
As part of the History Topic, 'The Vikings,' Year 6 spent an exciting day in York.  They visited the Jorvik Centre, York Castle Museum, Jorvik Dig, walked along the famous Shambles before finishing the day off with a chip supper.  Alfie said, 'this has been the best trip ever!'
Autumn Walk
The children have been learning all about Autumn this week, and as a class we went on an Autumn walk around the school.  Children collected various materials, for example, conkers, leaves, twigs, leaves and acorns. We have talked about how the leaves change colour during the Autumn time and how we prepare for this season. The children have used a variety of resources within their group work, for example; painting pine cones, counting Autumn materials, leaf rubbing, bark rubbing, painting leaves and creating their own Autumn trees using their hand prints.
Autumn Term Stay and Play
Friday 6th October 2017 was our first stay and play. It was a great success and an excellent turn out by parents and family as always. The children enjoyed showing their family members around our environment and taking part in different activities.
Reception – Patterns
This week in Reception we have been busy thinking about repeating patterns. We have used our knowledge of repeating patterns in a range of activities. During our computer sessions we practised using the mouse to click and drag the correct shape to complete the pattern. Then in the classroom we have been printing repeating patterns. Mrs Bird helped us to create our own snack this week too. We practised cutting up different fruits to make fruit Kebabs and we even designed them to have a repeating pattern!
Reception – P.E.
Today the reception children did a great job when getting changed into their PE kit for their first PE lesson. The children enjoyed going into the ball park for the first time. The children practised following instructions when playing the 'traffic light' game and the 'Beans' game.
Nursery – Settling In
The Nursery children have been busy over the last couple of weeks settling into school and their new learning environment. They have been engaged in a variety of opportunities to develop their imagination, teamwork, turn taking and social interaction skills. The children are all becoming competent with the new routines that are in place and this has been evident throughout the transitions they have each made. We have included a selection of photographs that have been taken throughout our settling in weeks.
Reception – Number Line
We have created our own number line to display in our classroom. We made sure we counted the right amount of children to match the numbers in each picture.
Reception – Counting
This week we have been practising one to one correspondence. We have practised lining the objects up we are counting and ensuring we touch one object as we say each number.
My First Lunch
The children started their first full week in Reception and stayed for dinner. The children enjoyed having pizza, wedges and beans. They were able to order their lunch and carry it to their table.
When I Grow Up
The children decided what they wanted to be when they grow up on their first day in school.